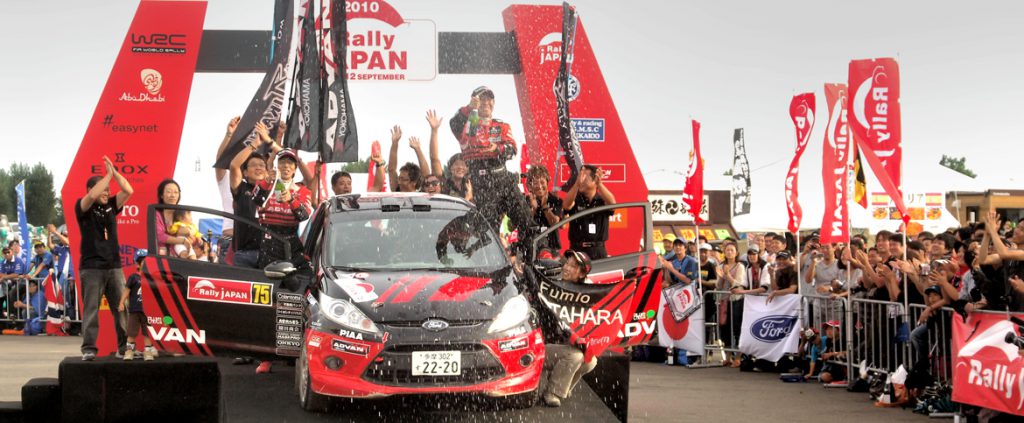 ラリー
一般道を舞台に戦いが繰り広げらる唯一のモータースポーツ"ラリー"。
サーキットレースとは異なり、舗装路、未舗装路、泥濘地、雪道、氷上など、あらゆる路面状況においても速く走らなければならない。
刻一刻と変化するコースコンディションの中、暴れるマシンを押さえつけ、ドライバーたちが知力、体力の限りを尽くして走破する。
時代によって洗練されながらも、人間とマシンそして大自然が泥臭く関わりあうモータースポーツ"ラリー"の魅力は計り知れない。
私たちはラリーというコンペティティブなモータースポーツが、よりエンターテイメントとしての魅力を発信できるように、様々なトライをしてきました。次のステップとして、スポーツとして「勝ち」を狙うことで生まれる感動を純粋に伝えられるよう、インターナショナルレベルへのチャレンジをスタートさせ、R5マシンの導入や海外ラリーチームとの業務提携を進めてまいります。
◇RALLY AMERICA ASSOCIATION
◇WORLD RALLY CHAMPIONSHIP
◇ASIA PACIFIC RALLY CHAMPIONSHIP
RALLY
Rally is the most extreme motor sport in the world.
Unlike circuit racing, driver have to run more faster on all road conditions, such as paved, unpaved, muddy, snowy and ice.
In the course conditions that change every moment, driver hold down the raging machine, and the drivers run through the limit of mental strength and physical strength.Rally where people, machines and nature are involved is attractive.
We have done various attempts so that competitive motor sports called rally can transmit attractiveness as more entertainment. As a next step, we will start a challenge to the international level to purely convey the impression created by aiming "winning" as a sport, and we will introduce the European R5 machine, and business alliance with the overseas rally team.
◇RALLY AMERICA ASSOCIATION
◇WORLD RALLY CHAMPIONSHIP
◇ASIA PACIFIC RALLY CHAMPIONSHIP